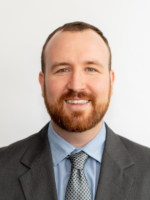 Alex Kleinert
Field Engineer, Daniel Marr & Son Company
alexkleinert@danielmarr.com
Alexander "Alex" Kleinert is a Field Engineer for Daniel Marr & Son Company. He is responsible for the measuring, layout and documentation of new and existing building components. Alex also provides as-built drawings and coordinates all related tasks. He has been at Marr since 2012. Previously, he worked as an installer for an underground utility company while he attended college.
Alex's favorite part about Marr is working on all the interesting and challenging projects he's come across. He says, "The most interest project has been the Nashua Street Residences for Avalon Bay. The steel has been very interestingly designed and is the largest I have been a part of."
Alex's professional goal is to obtain his PE or RLS license one day.
Additional interesting facts from Alex: "I enjoy being outdoors doing anything. I also enjoy driving and working on cars or basically anything that moves. I am a baseball fan and my two favorite sports teams are the Braves and Red Sox. I am also a religious University of Georgia fan."