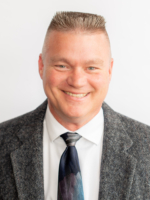 Bob Dembitzki
Vice President, Scaffold and Shoring
Robert "Bob" Dembitzki is Vice President for Marr Scaffolding Company. He is responsible for overseeing the Scaffold, Shoring and Engineering divisions, including sales and labor. He also ensures that service, safety and best practices are put to use on all projects. Bob has worked at Marr since 2012. Previously, he was the Northeast District Sales Manager at Harsco Infrastructure.
Bob's favorite part about Marr is that the company is "a fabric of the construction community," he says. "Whether its scaffold, cranes or even a scissor lift, our footprint is left on so many projects in the city."
Bob says his professional goal plays a role in almost every project he comes across. "It's being part of a design or concept that is put into use that sets Marr apart from others both efficiently and safely," he says.