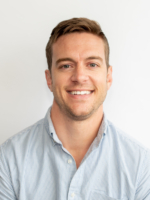 Christopher "Chris" Foley
Vice President, Isaac Blair & Co., Inc.
Christopher "Chris" Foley is Vice President at Isaac Blair & Co. He is responsible for providing overall management direction for specialty projects and developing new business opportunities with existing clients. Chris has worked at Isaac Blair since 2017. Previously, he worked for Plumb House, Inc.
Chris's favorite experience at Marr was working with and getting to know the field crew on an overnight emergency shoring job.
A personal goal of Chris's is to bring continued success and development to the Isaac Blair operation.
Additional interesting facts from Chris: "I'm a Brazilian Jiu-Jitsu practitioner and enjoy playing music with friends and family."