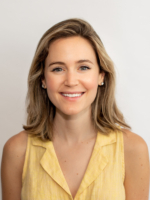 Katherine Marr
Communications Manager
Katherine Marr is the Communications Manager at The Marr Companies. She is responsible for assisting the Director of Marketing in the communications and marketing for all four businesses at Marr. She is involved in maintaining the company website, creating content and guiding Marr's social media campaign. Additionally, she assists in the writing and editing of all company publications and works on various special projects. Katherine has worked at Marr since 2014. Previously, she was an Advancement Associate at The Fessenden School.
Katherine's favorite part about Marr is the people. She says, "Not only do I enjoy seeing family members at the office, but I also enjoy getting to know the extended family here – my coworkers. Everyone is passionate about their work and dedicated to doing their best as individuals and for the company as a whole."
Katherine's professional goal is to incorporate her graduate degree (M.Ed) into either her professional or volunteer work someday.
Additional interesting facts from Katherine: "I love being active. I take barre classes most days of the week and run frequently. I am the fourth Marr to run the Boston Marathon, though the first female on both sides of my family to do it! I also love spending time with my dogs Mabel and Lucy."