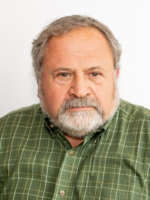 Rick DeAmelio
Director, Equipment Maintenance
Richard "Rick" DeAmelio is the Director of Equipment Maintenance at Marr Scaffolding Company. He is responsible for all equipment and vehicle records, registrations and permits; assisting with repairs, maintenance and tracking of equipment, vehicles and properties; researching and sourcing MRO parts and supplies; and overseeing telecommunications equipment and vendors. Rich has worked at Marr since 1975. Previously, he was a Manager at Stevens Automotive Service.
Rick's favorite experience at Marr is researching and sourcing parts and services.
Rick's professional goal is to have a clean desk top.
Additional interesting facts about Rich: He is a dog trainer and competes with his two dogs – a 12 year-old Australian Cattle Dog and a six-year-old Border Collie.