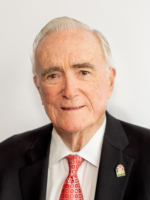 Robert L. Marr
Chairman
Robert "Bob" Marr is Chairman of the Board of The Marr Companies. Bob joined Marr in 1960 and his many years of experience make him well suited to assist the fifth generation ownership in securing the future of the companies. Previously, he served as a Lieutenant (junior grade) in the U.S. Navy, stationed at Great Lakes, IL.
Bob's favorite experience at Marr has been introducing new methods and equipment to the industry. Also, he's enjoyed guiding the companies' growth.
It's long been Bob's personal goal to see the growth and continued expansion of the management team.
Additional interesting facts about Bob:
Co-Founder and past President of The Colonel Daniel Marr Boys & Girls Clubs of Dorchester, Inc.
Elected President of the Massachusetts Building Congress, 1969-70
Former Chairman of the Boston Zoning Commission
Elected President of the New England Patriots, 1974-75
Elected Captain commanding the Ancient and Honorable Artillery Company of Massachusetts, 1974-75
Elected President of the Notre Dame Club of Boston, 1965-67