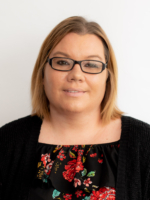 Shannon Webb
Administrative Assistant, Daniel Marr & Son Company
Shannon Webb is a Payroll Assistant for Daniel Marr & Son Company. She is responsible for inputting the weekly payroll for the Local 7 Iron Workers. Shannon has been at DM&S since 2013. Previously, she worked as a Receptionist and Credit Assistant at Marr Scaffolding Company.
Shannon's favorite experience at Marr was winning the 2011 Marr Annual Bake off with her beautiful Kit Kat cake.
Shannon's professional goals are to keep excelling in her position and learn everything there is to succeed.