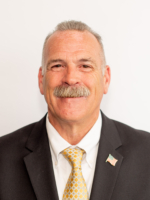 Thomas McCafferty
Vice President, Aerial Lifts Division
Thomas "Tom" McCafferty is the Vice President and Sales Manager for the Aerial Lifts Division of Marr Scaffolding Company. His responsibilities entail guiding and encouraging sales staff with enthusiasm, and delivering the best results for clients. Tom has worked at Marr since 1990. Previously, he was a Sales Representative at Action Equipment Co.
Tom's favorite experiences at Marr include celebrating the 100 year anniversary of the company and viewing Boston atop all three towers: John Hancock, Prudential and 100 Federal Street.
A professional goal of Tom's is to aid and enjoy the development of all the company's young men and women as they learn and develop in the industry.
Additional interesting facts from Tom: "I am a husband, father and grandfather."