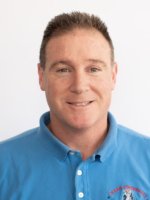 Tom Ritchie
Inside Sales Coordinator, Aerial Lifts
Thomas "Tom" Ritchie is an Inside Sales Coordinator for the Aerial Lifts Division at Marr Scaffolding Company. He is responsible for coordinating with sales, service, and customers to deliver Powered Equipment to job sites. "Customer service and satisfaction is of the utmost importance," says Tom. Before coming to Marr in 2008, Tom worked at Trinity Pub and The Wild Rover as a Manager.
Tom's favorite part about working at Marr is the people. He considers them to be "very courteous, friendly and professional."
Tom's professional goal is to work in a specific sales territory in the Power Division, where he believes he can be most successful in managing and cultivating the area's business.
Outside of work, Tom stays active on the ice: "I enjoy coaching kids and teaching them the game of hockey."