Steel Erection
As the oldest and one of the largest steel erectors in the Boston area, Daniel Marr & Son has the experience and expertise to handle any project regardless of size and complexity. DM&S is dedicated to making each project a success and embraces a collaborative effort with clients. The company focuses heavily on maintaining project schedules, budget management and of course, dedication to a safe working environment. In addition to the management team, the company employs many highly skilled and experienced field personnel.
photo: Boston Children's Clinical Building, Boston, MA



Precast Concrete Erection
DM&S has been involved with many structural and architectural precast projects. Often DM&S' steel erection work complements the installation of precast facades on high-rise structures, providing a seamless project for our clients. DM&S field engineers provide a high level of quality control, ensuring proper layout and alignment. The company employs several field crews that specialize in precast erection and understand the importance attending to the details to make a project successful.
photo: Night work at Watermark Parcel K, Boston, MA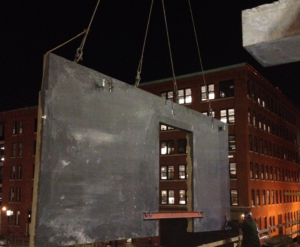 Pre-Construction Planning
We believe proper planning provides the best opportunity to make a project successful. Our experienced staff has the knowledge and is ready to assist general contractors early in the planning stages with regard to schedules, logistics, and budgeting. DM&S clients know that we will work closely with them to ensure all project goals are met.
photo: Early rendering of floating sculpture installed over the Rose Kennedy Greenway, Boston, MA

Special Projects
Although Daniel Marr & Son is well known for our expertise in high-profile structural steel erection projects, we also retain several specialized crews that work on smaller projects including miscellaneous metals, tenant fit-outs, renovation to existing structures, and unique rigging jobs. Typically smaller in size, these projects have a high degree of complexity that requires the right team to make it happen. In addition, many of these special projects require additional services such as shoring that goes hand in hand with our work, and with our sister company, Isaac Blair, we can manage and coordinate these activities to ensure a flawless outcome.
photo: Installation of Silver Line MBTA Bridge, Boston, MA