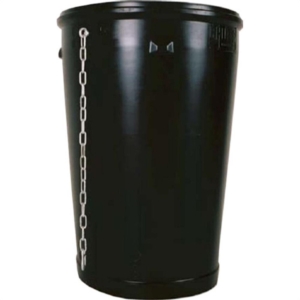 CHUTES International's DURAFLAT™ system was designed to meet lightweight, economical construction debris removal needs.
The DURACHUTE™ system is the choice system for roofers, scaffolding, general contractors, and construction rental companies.
The blow-molding process makes a more resilient chute than any other on the market. The upper and lower rings add extra stability, so that the system maintains its shape regardless of the length of the system and the larger 32" diameter makes for efficient and effective debris removal.
In addition to straight sections and intakes, DURACHUTE™ has a complete line of accessories to provide for a safe and easy installation:
Each section is approximately 4' tall with 3' 1" of useable chute length
Sections weigh 37 lbs (chains included)
Heat-Treated, Proof Tested Galvanized Chains
Top opening of 32" tapers to 27"
CHUTES carries a full line of accessories including:
Hangers for every application
Dust Reducing Gaiters
Protective Liners
Guide Ropes
Safety Frames
Picking Bars
Winches