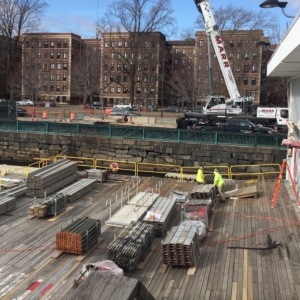 This free standing system does not require engineered points or surface penetration.
It has built-in rail and toe-board receptacles that allow for infinite configurations.
A rubber pad provides skid resistance and protects the roof surface.
Components include galvanized bases; six, eight and 10-foot rails plus gates and hatch kits.
Whether you are setting up the guardrail around the perimeter of a roof or closing a wall opening, the unlimited configurations offered by the system will easily accommodate your needs.
Ideal for use with floor hatchways or chutes, leading edges, skylights, truck or rail docks, floor or wall openings, pits, shafts, manholes and more.
Is adaptable to many applications.