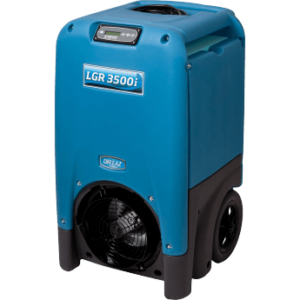 Specifications
Extreme Water Removal: 
The Dri-Eaz 3500i LGR Dehumidifier is a low-grain refrigerant dehumidifier that continues removing moisture even in dry, low-temperature environments. This is because LGR dehumidifiers have better heat exchange and defrost abilities over traditional refrigerant dehumidifiers, making them reliable solutions for restoration tasks. The 3500i removes up to 240 pints per day maximum in a saturated space (90 degrees F, 90% relative humidity), in addition to its AHAM-tested removal efficiency of 170 pints per day.
For low-hassle emptying, this system's high-power condensate pump continuously pumps collected moisture out of the dehumidifier. Simply route the included 40-foot drain hose to the quick connect port and route it to a nearby drain, bucket, sink, or the outdoors. Condensate can also be pumped vertically up to 20 feet if necessary.
Intelligent Operation: 
The Dri-Eaz 3500i Dehumidifier is an "intelligent" LGR unit that features a self-monitoring system to maximize performance in all environmental conditions. Onboard wireless sensors automatically monitor and display inlet and outlet conditions on the digital control panel. You can view these readings at a glance and use them to better manage dehumidifier operation and jobsite progress.
Additional Features:
Automatic Humidistat – A built-in humidistat adjusts operation to automatically maintain your desired humidity level in all conditions
Auto Defrost – In very cold temperatures, the dehumidifier automatically warms frost build-up on the coil and transforms it into condensation
Digital Control Panel – The Dri-Eaz LGR 3500i control panel boasts a digital display and touchpad with 4 different keys, displaying English system messages, no confusing codes
Hour Meter – Tracks job hours and total life hours for task management