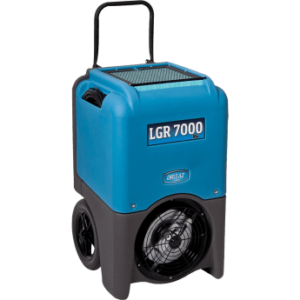 Specifications
High-Capacity Water Removal:
The Dri-Eaz 7000XLi Dehumidifier is a low-grain refrigerant dehumidifier that continues removing moisture even in dry, low-temperature environments. This is because LGR dehumidifiers have better heat exchange and defrost abilities over traditional refrigerant dehumidifiers, making them reliable solutions for restoration tasks. The 7000XLi removes up to 235 pints per day maximum in a saturated space (90 degrees F, 90% relative humidity), in addition to its AHAM-tested removal efficiency of 130 pints per day.
Smart Dehumidification:
The Dri-Eaz LGR 7000XLi is an "intelligent" LGR unit that features a self-monitoring system and Advanced Crossflow Technology to maximize performance in all environmental conditions. Onboard wireless sensors automatically monitor and display inlet and outlet conditions on the digital control panel. You can view these readings at a glance and use them to better manage dehumidifier operation and jobsite progress. The machine is also equipped with an automatic humidistat for "set it and forget it" humidity control. The humidistat works in unison with the wireless sensors to adjust fan speed and cycle duration for faster, more efficient drying.
Additional Features:
Auto Defrost – In very cold temperatures, the dehumidifier automatically warms frost build-up on the coil and transforms it into condensation
Digital Control Panel – The Dri-Eaz 7000XLi control panel boasts a digital display and touchpad displaying English system messages, no confusing codes
Hour Meter – Tracks job hours and total life hours for task management