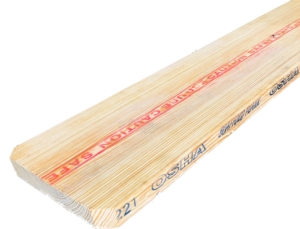 Specifications
Proof Loading Solid Sawn DI65 Scaffold Plank
GripStrip Scaffold Plank Load & Span Chart
Total Load (pounds)
Max. Span (feet)
Max. Deflection (inches)

Load Supported over Specified Distance (inches) (Federal OSHA Duty Rating)

12"

24"

36"

Light Duty (25 psi) (Workers-Minimal Storage of Materials)

265 280 285

10

2

Medium Duty (50 psi) (Workers-Some Storage of Materials)

390 425 460

7

13/a

Heavy Duty (75 psi) (Workers-Considerable Storage of Materials)

565 635 725

5
Bending Stress Fb = 2200 psi, MOE = 1,800,000 psi
The design properties for GripStrip" Scaffold Plank are based on dry use conditions. Dry conditions are defined as an environment whereas the moisture content does not exceed 19%.
Deflection Is Based On Federal OSHA Maximum Span ( In Inches) Divided by 60 – Flat Use.
For conditions other than listed above, contact Breault Industrial Group, Inc.
---
Safety Guidelines
Osha Scaffold Platform Construction
What are scaffold platform construction requirements?
Each platform must be planked and decked as fully as possible with the space between the platform and uprights not more than 1 inch (2.5 centimeters) wide. The space must not exceed 9.5 inches (24.1 centimeters) when side brackets or odd-shaped structures result in a wider opening between the platform and the uprights. 1926.451(b)(1)
What are the requirements for scaffold planking?
Scaffold planking must be able to support, without failure, its own weight and at least four times the intended load. 1926.451(a)(1) Solid sawn wood, fabricated planks, and fabricated platforms may be used as scaffold planks following the recommendations by the manufacturer or a lumber grading association or inspection agency. Appendix A (1)(b) and (c) Tables showing maximum permissible spans, rated load capacity, and nominal thickness are in Appendix A (1)(b) & (c) of the standard
Source: A Guide To Scaffold Use in the Construction Industry , OSHA 3150, 2002 (Revised)