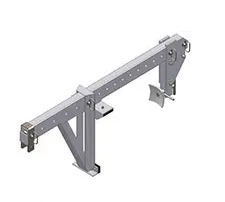 Parapet Clamp
Parapet clamps and roof hooks are the simplest method of rigging on structural parapets.
The lightweight Adjustable Parapet Clamp has an outreach from 16 to 24 in. Quick pins allow for fast and easy adjustments. Weighs less than 50 lbs., making it easy to transport, install and produce to quickly.
1,500 lb maximum load capacity with 4 to 1 safety factor.
Back