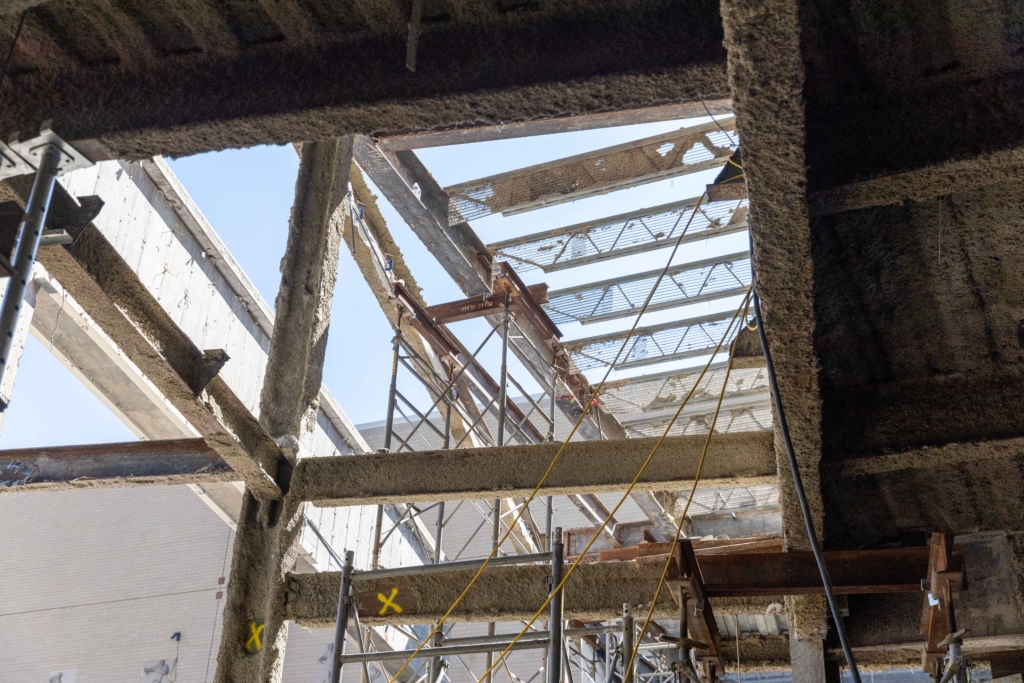 This summer, the north side of Boston College's Conte Forum is undergoing a renovation that includes the construction of an illuminated glass entrance and a new vestibule, a reconfigured layout of Power Gym and a reconfigured band room. Also under construction is a new 40,000-square-foot addition – the Hoag Basketball Pavilion – that will house team locker rooms, a sports medicine suite, strength and conditioning room, nutrition room with food stations and dining, as well as expand Gate C entry to the concourse. Gabelli Plaza will be enhanced with new plantings, seating areas and pavement.
Marr Scaffolding Company's Shoring Division has been contracted by Select Demo to provide shoring and engineering services for the project. Existing foundation walls, beams and columns are being removed as part of the renovation and addition. Temporary shoring is required to support the existing columns, 2nd floor and roof framing throughout the process. A combination of Hi-Lite and Shore-X shoring systems is being used along with post shores and custom c-channels.
During a recent site visit, Rick Souza, Foreman for Select Demo, spoke to Marr's marketing team and praised the work being done: "It's been great working with the Marr team, especially (Project Manager) Chris Madden. There's comfort in knowing he's confident in this maze of concrete and steal."
The equipment will remain in use through August 2022.