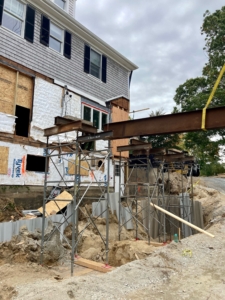 Isaac Blair recently installed shoring at a private, waterfront residence undergoing a major renovation in Cotuit. The shoring will support the residence during the replacement of the existing foundation and the installation of a new foundation for a large addition at the rear of the house. Installed for General Contractor Site Management, the shoring will remain in place for approximately two months.
Set on a hill overlooking the ocean, the house was temporarily suspended in the air to enable workers and construction equipment to remove the existing foundation and begin building a new, deeper foundation that would provide more headroom. To accommodate this work, Isaac Blair crew members installed four, 40-foot steel beams through the first floor of the house. These beams, weighing 2,000 pounds each, were used to suspend the first floor and carry the load from above. The crew also installed Shore-X shoring frames to secure the beams and tilt-up bracing to provide lateral support for the house. Installed over two weeks in October, the shoring will provide complete support of the house's first floor and all load bearing walls during construction.
Additionally, Isaac Blair installed shoring to support the installation of a new concrete slab foundation under a previously built, 2-story addition to the house. Isaac Blair installed two needle beams, supported by a temporary wall built by Site Management and shoring towers on the first floor, to carry the load of the second floor during construction.