Remembering Robert L. Marr, 1936-2022
It is with great sadness that we inform you of the passing of Robert L. Marr, a fourth-generation family member to lead the Marr Companies and former Chairman of the Board. Bob passed away on Sunday August 7, 2022.
Bob was born in Dorchester to the late Mary V. Marr (Davin) and the late Daniel F. Marr. He was predeceased by his brothers, John T. Marr and Daniel F. Marr Jr.
Bob attended Cranwell Jesuit Preparatory School in Lenox, MA, continuing his education at the University of Notre Dame in South Bend, IN, graduating in 1958. In the same year he married Doris Good of West Roxbury and moved to the U.S. Naval Examining Station in Great Lakes, Ill, where he served on active duty as an officer for two years. He was honorably discharged as a Lieutenant JG. Shortly thereafter, in 1960, Bob began his 60-year career with the Marr Companies. He was primarily involved in business operations with a focus on finance, management and sales. For decades Bob was instrumental in guiding Marr through a period of steady growth until he retired as Chairman of the Board in 2021.
Bob's legacy extends throughout the greater Boston area. He served as President of the New England Patriots from 1974-1975, Captain Commander of the Ancient and Honorable Artillery Company from 1975-1976, Chairman of the Zoning Commission of Boston from 1992-2007, Mass Building Congress President for the year 1965 and Past President of the Boston Chapter of the Notre Dame Club.
Among Bob's greatest achievements was founding, along with his brother Dan, the Colonel Daniel Marr Boys and Girls Club in Dorchester (later renamed the Boys and Girls Clubs of Dorchester) in 1974. The Club has grown to include three sites and serves over 4,000 children. Additionally, Bob has contributed his talents and financial support to many charitable organizations dedicated to housing, feeding and educating those in need. Many charitable events which he established are still thriving today.
Bob is survived by his wife Cynthia M. Marr; his sister Judith M. Spyrou and her husband Andreas; his nephews Daniel F. Marr III and Claire Marr, Jeffrey T. Marr and Debbie Marr, David B. Marr Sr. and Jennifer Marr, and Stephen P. Marr and Cynthia Marr; as well as several grand nieces and nephews.
Bob also leaves behind many close friends and associates from his lifetime of work with the Marr Companies, the Boys and Girls Clubs of Dorchester and the Ancient and Honorable Artillery Company of Boston.
Rest in eternal peace, Bob.
——-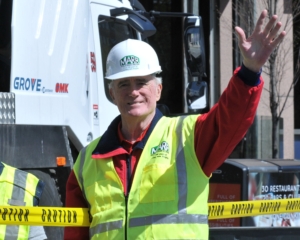 Please send any donations in Bob's memory to The Boys and Girls Clubs of Dorchester, www.bgcdorchester.org.